Childs Play!!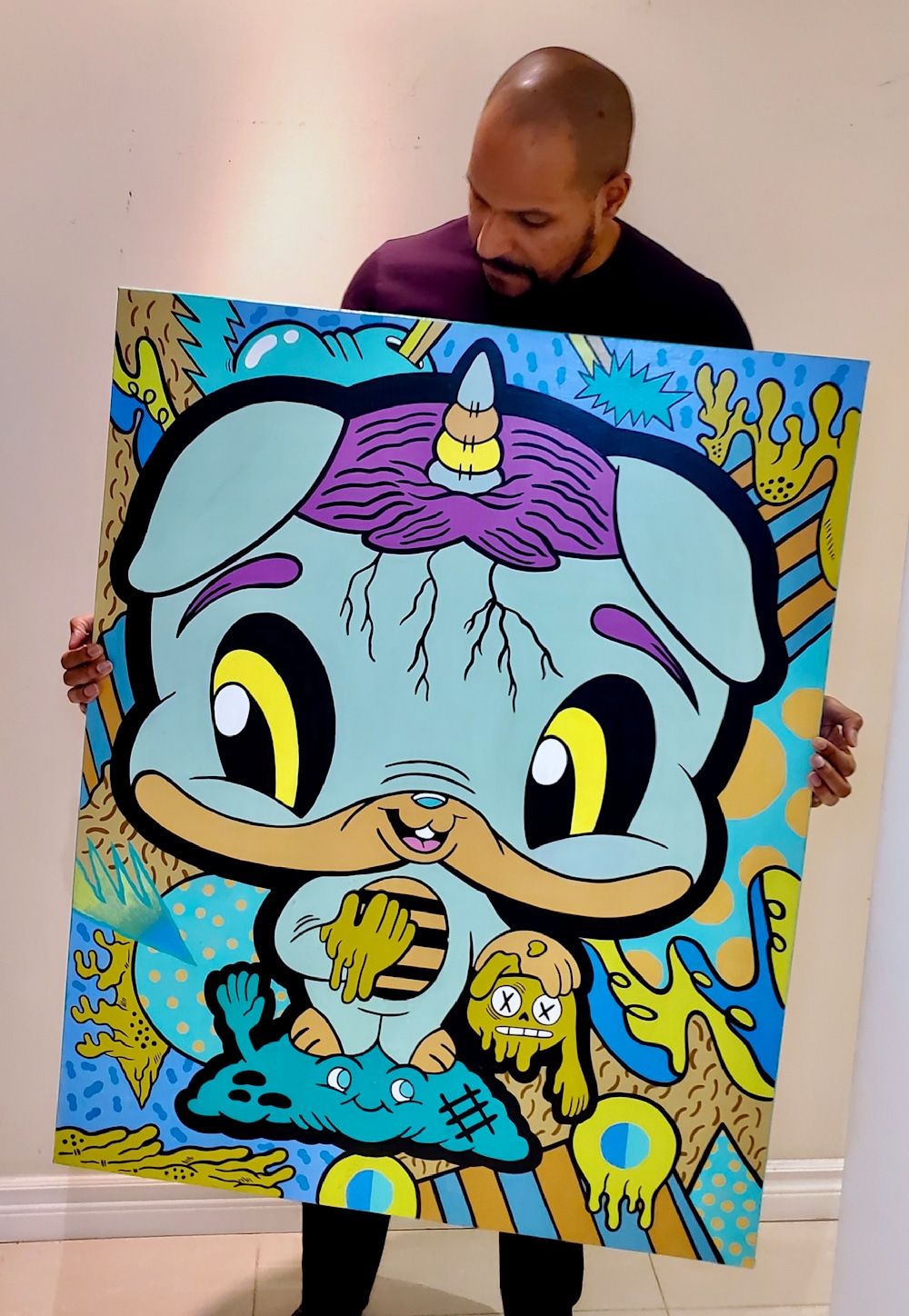 First and foremost thank you for checking out my latest blog! It has been about a little over a year since I wrote my last entry, and with the new year underway I am back in full swing! As an artist oftentimes I would get questions asking about my artistic process and why and how I create my characters. For the first entry of the year I would like to answer these questions and give some insight with my newest painting titled " Childs Play ". As the name of the painting suggests Childs play is about childhood. A common theme within my paintings is the idea of nostalgia and how to recapture the feelings of times long gone. Although I certainly do not wish to be a child again, I use my art as a way of channeling my youth and inner child. The characters I paint are a reflection of the days of adolescence; when times were simpler, when we played outside letting our imaginations run wild! Childs Play captures the essence of these days of innocence. The character in the painting " Reegan " is an Almiraj, a mythical creature that is part bunny rabbit, with a unicorn horn, his expression is one of curiosity, as he looks to the side his attention waivers, much like children who are full of energy and wonder. His hands are dirty, a slight nod to getting our hands dirty while playing as kids; trippy shapes and patterns flood the backdrop; which is an ode to the retro posters from my favourite era of pop culture, the 90's.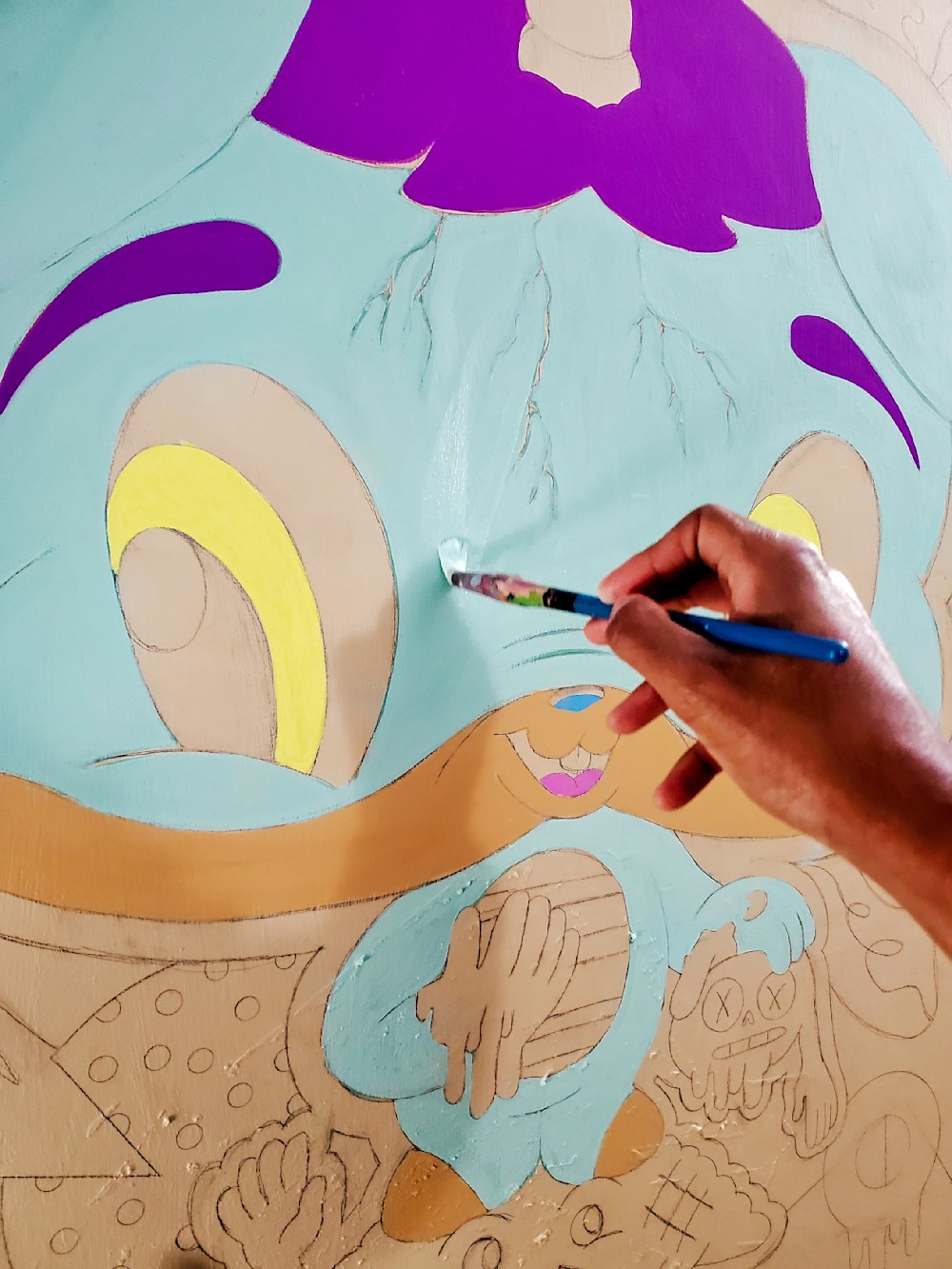 At work!!!
The process: My artistic process is quite simple, but there are a few rules I have when it comes to my colour theory. Stylistically I like to have a balance of vibrant colours mixed with pastel hues for contrast. For my new body of work I pushed myself to premix every single colour, coming up with my own recipes, rather than use the paint colours straight from the bottle or tube. With plenty of trial and error, I was able to come up with some unique hues and shades. To get the desired level of opacity I stuck with the tried and true Golden " So flow " acrylics some " Liqutex soft body as well as "Golden Fluids" I paint in flat layers until I'm pleased with the matte results, then apply the black lines with a laser like focus and VERY steady hand.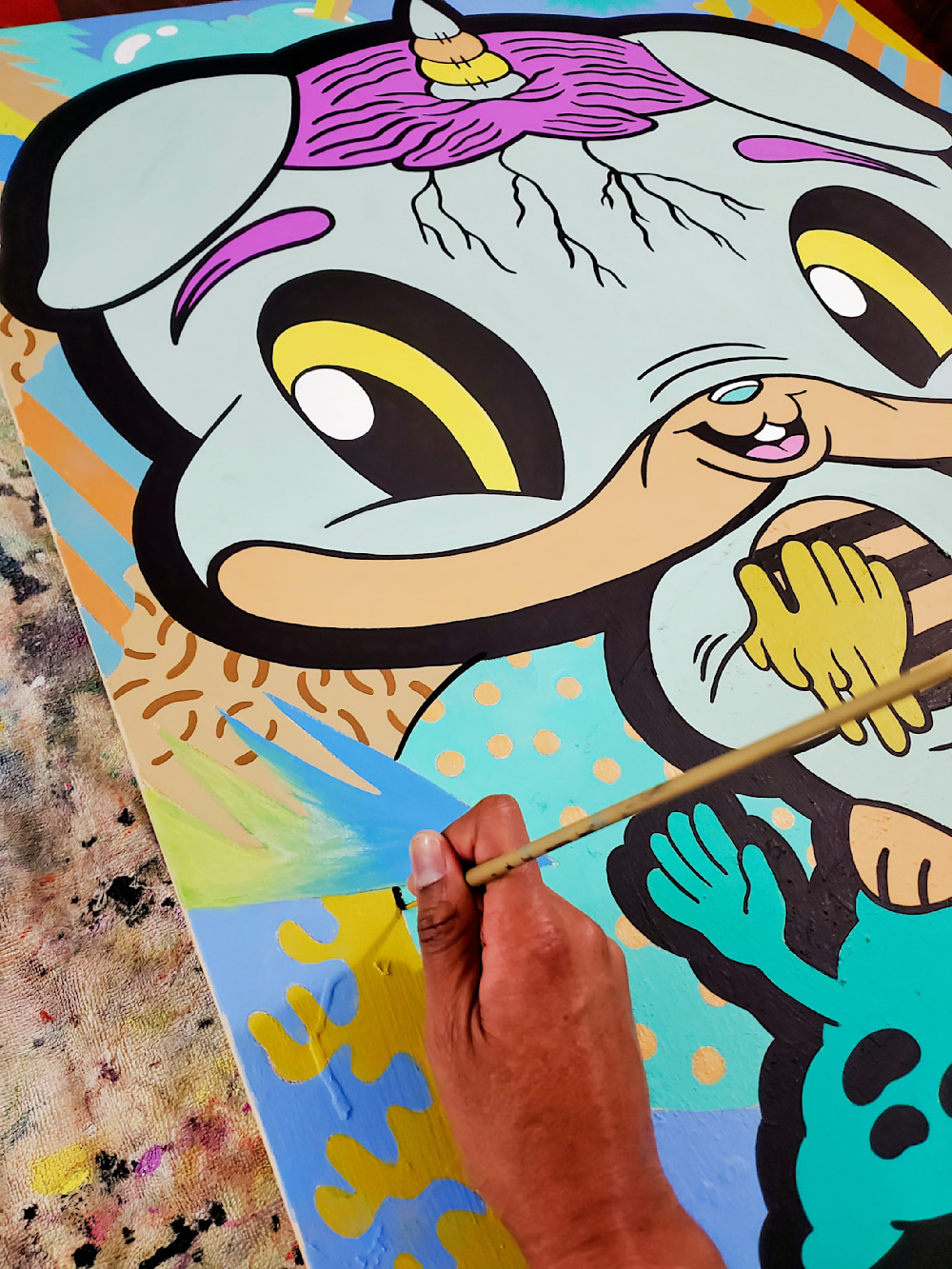 Adding my favourite part the crispy Black lines!!!!
There you have it! A brief glimpse into my process, of course there is more to be revealed, perhaps at a later time. Stay tuned for the unveiling of more new " Blue Chip " artworks in the coming weeks as I look to have a Breakthrough year.
* To see more on this Painting in my shop click here
Andy